More FAQS

From time to time, we would receive a lot of enquiries in regards to products, shipping and bulk orders. As a company, we are always looking to improve ourselves. Here are guides to help you to understand what do the drop shipping term mean.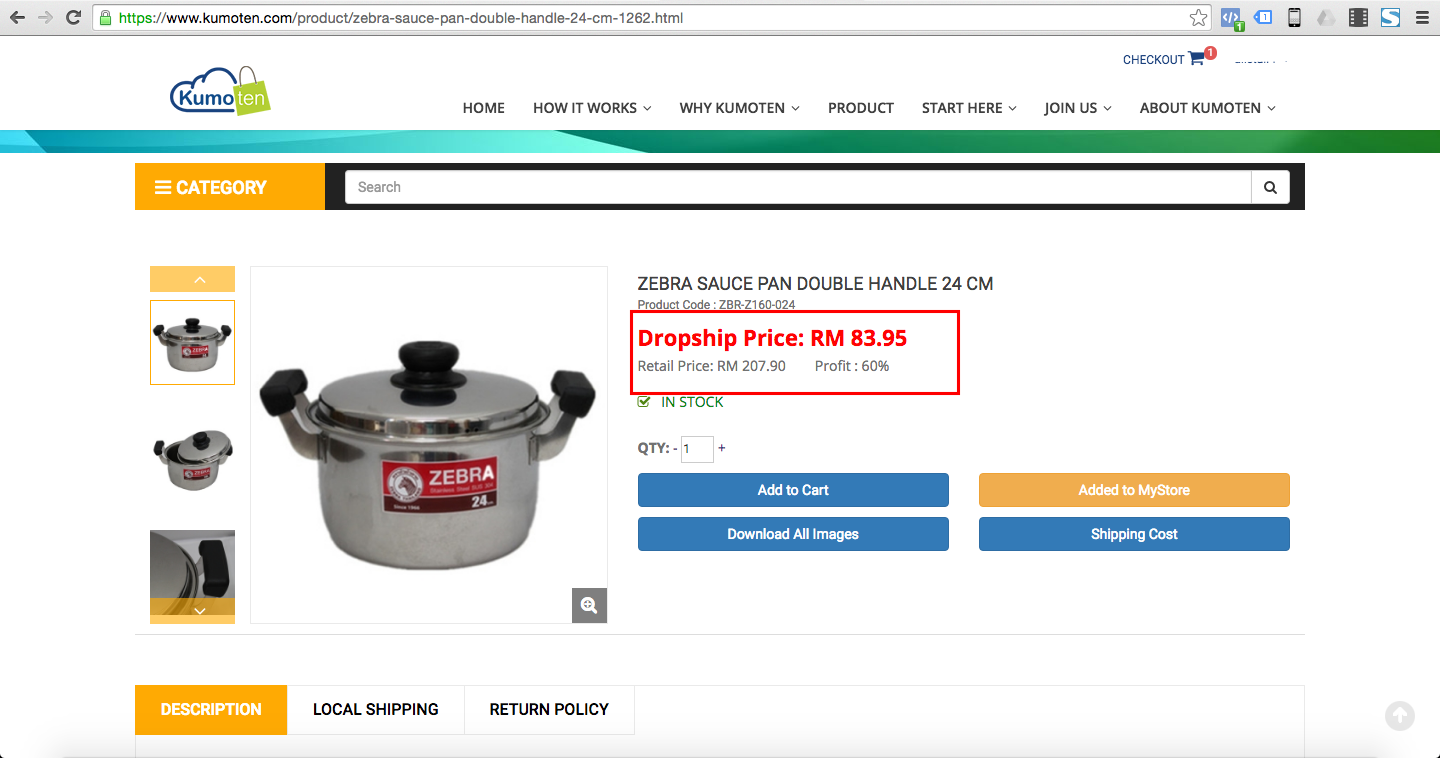 Price

What is Retail Price ?
Retail Price is the recommended selling price that you should sell on your online platform. It is the amount that your customer pay you when you sell the item.
What is Dropship Price ?
Dropship prices is the amount that you pay to us for a specific item. Most commonly known as retailer price or drop shipper price. Item's sold does not include Shipping Fees.
What is the Profit Margin ?
The profit margin is the possible profit gains if you sell the item at the Retail Price. Each product has a profit margin percentage of how much you can make if you sell at Retail Price. The higher the price, the higher the profit margin. Please be informed the profit does not include Shipping Fees.
GST
Who pays for GST?
Kumoten absorbs the cost of GST in our final dropship price to dropshippers
The price in the sales order form is different from the dropship price?

Here's how it works.
This is a ''Sales Order Form' which we have to comply with Royal Malaysian Customs Office to declare the amount of GST we are paying. The product will show but in the 'Sales Order Form' it is separated to comply with the Customs Office for declaration purposes. This order form is the same form dropshippers have to fill in order for Kumoten to process the item and send it to your customer. As you can see, the form has to separate the prices to show how much GST we will be paying. If you totalled up the Sub Total + Shipping + GST, it will still show the same amount as shown on the photo below.

The 'Mini Arabian Deluxe - Ajwa Al Madina Deluxe Dates as above is RM40.87 (includes GST) + Shipping Fee of RM7.60 to Peninsular Malaysia. The total amount that you will still be paying will be RM48.47. It shows the same amount at the 'Total Payable' in the Sales Order form.
To make things short, NO, retailers and dropshippers do not pay for GST as Kumoten will absorb the cost of GST for both product and shipping. The reason why the 'Manual Order Form' shows differently is because it has to be in compliance with the GST formulae.
If you need further explanation, do not hesitate to contact our support team at support@kumoten.com or Whatsapp (only) 019 - 331 0990 from Monday to Friday 9am to 6pm.
Bulk Shipping

Do you do Bulk Shipping ?
Yes we do provide bulk shipping to one address but only on items that are the same brands. For example, if you happen to purchase a Zebra Kitchen Knife, you will only get bulk shipping from other Zebra brands. If 2 products are not of the same brands, you will not qualify for bulk shipping. Should you be purchasing 2 (two) or more items to the same address, you can contact us on WhatApp: +6019 331 0990 or email us: support@kumoten.com to negotiate on a better shipping rate.
International Shipping

Where does Kumoten ship to ?
Currently we ship to throughout Malaysia using Pos Laju. We also ship to Singapore, Indonesia and selected countries. For further enquiries on pricing details and other countries you may plan to ship, please contact us on WhatApp: +6019 331 0990 or email us: support@kumoten.com
Bulk Order

Do you do Bulk Order ?
If you own your own store and want to stock some of our products in your store, you are always welcome to contact us for more details on Bulk Order. Some products are available for Bulk Order in our Product Catalogue. Check it out here