Caboki hair building fiber will grow back your hair within 60 seconds. Caboki hair fiber are made from 100% pure cotton.Feel and look more confident with our hair building fiber.
Product details
1.Remove bald patches or the appearance of thin-looking hair very quickly.

2.Make your hair thicker and giving a natural appearance. The fibers are completely undetectable,even if someone takes a close up view, outside or under the sun.
3.The fibers stick tightly and lasts all day, through rain, wind, and sweat.
4.The fibers won't stain or smear your clothing and skin.
5.Works best for both women and men.
6.Estimate can use up to 70 times.
Weight: 200g

How Cobaki Work:??Miracle Mane natural cotton Hair Fibers look just like natural hair.The hair fibers are made from 100% pure cotton. These hair fibers are charged with static electricity which makes them bond more securely with existing hair. They are kept inside containers made from a highly advanced polymers, which stimulate static charge in the hair fibers every time the container is shaken.??Works For All Types of Hair Loss Conditions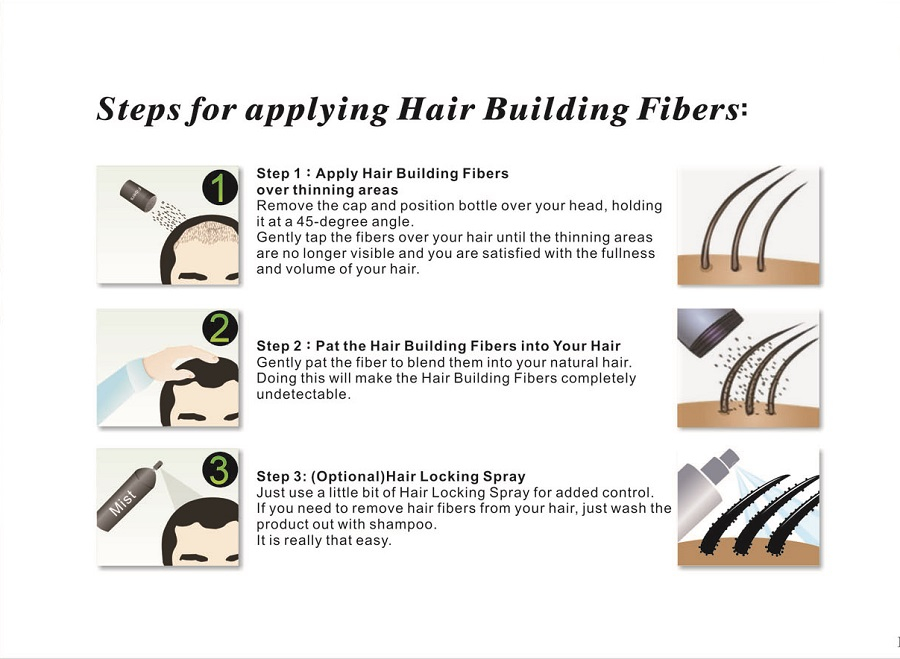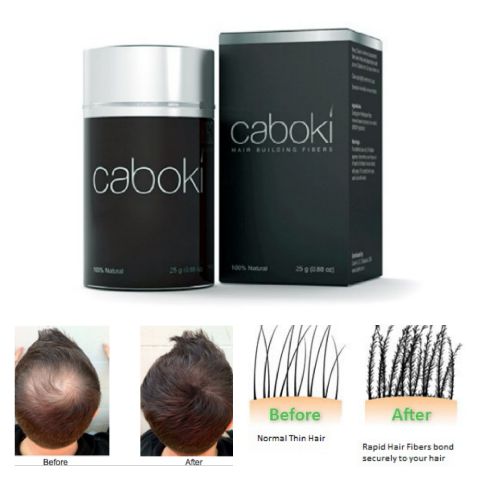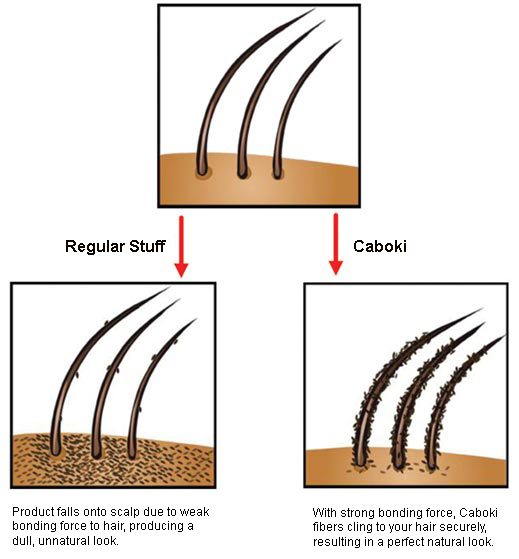 What is Caboki
Caboki is a breakthrough product for hair loss sufferers that

Instantly eliminates bald spots or appearance of thinning hair.

Gives you a perfectly natural look. No one will know you're using Caboki unless you tell them - even if they get a close up view, outdoor, under bright sun light.

Last all day, all night, through wind, rain and sweat.

Will not smear or stain your skin or clothing.

Works for both men and women.
Unlike ordinary products on the mass market, Caboki is a professional grade product:
Made of natural fibers from plants, safe even for sensitive scalp.

Bonds to hair more securely, your hair style will last considerably longer.





How Caboki Solves the Problem at Its Root
Did you know that ordinary hair thickening products are made mostly from wool (sheep's hair, marketed as "keratin fiber")? Offhand, wool might seem like a logical choice. After all, wool IS hair.

And it is readily available everywhere.

But here's the problem: in one respect, wool is TOO similar to human hair.

Have you ever pulled a wool sweater off of your head in the middle of winter and found your hair standing straight up and unruly like Einstein? Then you know the laws of attraction and repulsion: like charges repel and opposite charges attract.

Both wool and human hair carry positive electrical charges, therefore they repel each other, and that's the root cause of problem.

But ordinary hair thickening products choose to ignore that bit of basic science for the sake of convenience and cost-saving. So they use wool, which human hair - simply obeying the laws of physics - tries to repel, therefore the product falls off easily.

We think it's a lot smarter to work with science.

We use the laws of physics to your advantage by using a raw material called Moroccan Gossypium Herbaceum. The fiber extracted from this plant, which is almost identical to your hair, carries a negative charge, so - again, simply obeying the laws of physics - it wants to bond to your hair (positively charged).

The result is a 200% stronger bond than with wool fiber.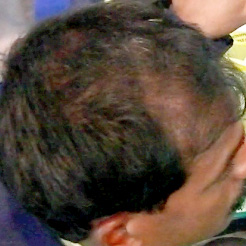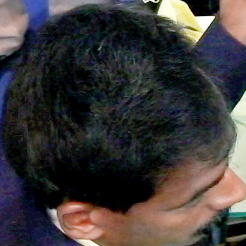 Before After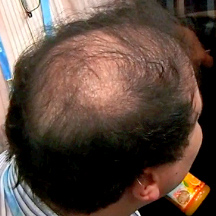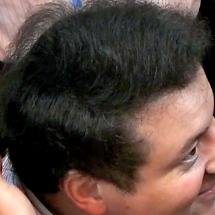 Before After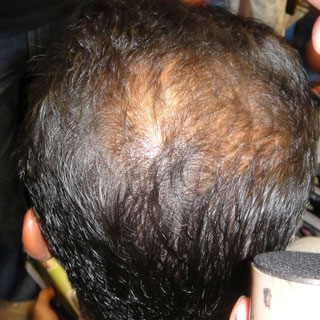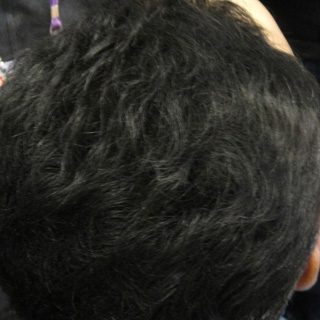 Before
After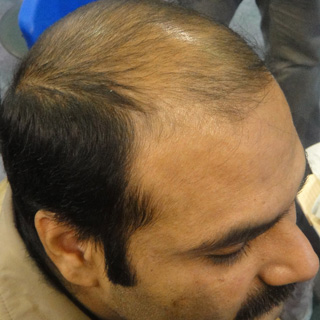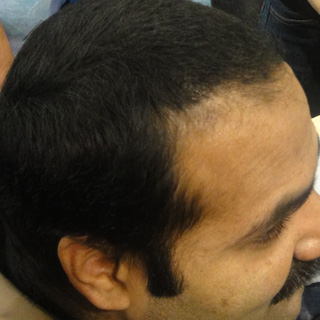 Before After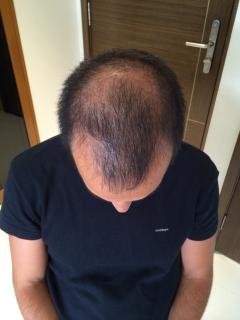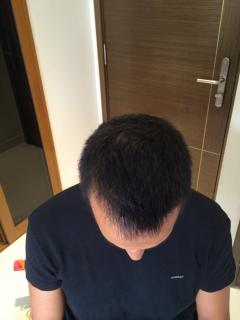 Before After
Location
Cost
Peninsular Malaysia
RM

1.00

Sabah & Sarawak, International
RM

1.00
| Country | Estimated delivery (Working days) | Online Tracking Availability | Shipping Company |
| --- | --- | --- | --- |
| US | 7-10 Days | 2 Days | America Line1/中美专线(IB) |
| Canada | 7-15 Days | 2 Days | E post/国际E邮宝 |
| UK | 7-10 Days | 5 Days | British priority mail/英国专线(HQ-Y) |
| Australia | 5 - 8 Days | 2 Days | Australia priority mail/澳大利亚专线(UBI) |
| New Zealand | 10 - 25 Days | 1 Days | Sweden surface mail/瑞典小包平邮(B) |
| Japan | 10 - 25 Days | 1 Days | Sweden surface mail/瑞典小包平邮(B) |
| Germany | 7-15 Days | 3 Days | Germany priority mail/德国专线(HQ-D) |
| France | 7-12 Days | 5 Days | French priority mail/法国专线(HQ-C) |
| Italy | 7-12 Days | 2 Days | Italy priority mail/意大利专线(BRT) |
| UAE | 10 - 35 Days | 5 Days | Sweden surface mail/瑞典小包平邮(B) |
| Thailand | 7-8 Days | 2 Days | SEA priority mail/东南亚专线(LWE) |
| Vietnam | 7-8 Days | 2 Days | SEA priority mail/东南亚专线(LWE) |
| Brunei | 15-35 Days | 5 Days | 4PX Singapore Post OM Pro/4PX新邮经济小包 |
| Singapore | 7-8 Days | 2 Days | SEA priority mail/东南亚专线(LWE) |
| Indonesia | 7-8 Days | 2 Days | SEA priority mail/东南亚专线(LWE) |
| Philippines | 5-10 Days | 2 Days | AU priority mail2/中澳专线(TOLL) |
For combine shipping, please contact
support@kumoten.com
/ whatsapp 0193310990
Product Return Policy
In what condition do we accept product exchange and/or refund?
Kumoten dropshippers are allowed to return products within 14 calendar days from shipment date under the following circumstances:
a.) Manufacturing defects.
b.) Kumoten delivered the wrong item.


Product return policy and procedures
(a) Stay Calm and Contact Us. In the event of customer complaint and request for return or refund, please stay calm and contact our Whatsapp Customer Service team at 019-3310990 or support@kumoten.com. Our support team available Mondays - Fridays, 9am - 6pm .

(b) What do we need to verify that the item is allowed for exchange or return? In most cases, we will need your help to get a few photo or video (handphone standard is sufficient, no need studio photography. ) of the item, show us where is the problem and we will get it processed. Off course, we will need to know the order ID too.

(b) (i) How to send the item back to us. Once our support team confirms the return, we shall send you a digital consignment note (Pos Laju). Retailers shall be required to inform the buyer to print the digital consignment note and paste it on the return parcel. We will arrange PosLaju to pick up the item from your buyer's address. If your buyer prefer us to pick up the return item from another address like their work place, please let us know too.

(ii) How to pack the return parcel. Please remind your buyer to ensure that the parcel has all the items including the packaging in it. Make sure the parcel is not see-through and well sealed. Paste the consignment note on the parcel.

(c) Exchange or Refund? We suggest you try to ask whether buyer accepts product exchange as first option. In any case, you and your buyer shall have the option to either get refund for the item's amount paid as stated in the sales order, or product replacement (same SKU). However, in the event where the particular item is out of stock, Kumoten shall refund the amount to you (dropshipper) and you liaise with the buyer.

(d) How long does it take? The product return or refund normally takes about 7-14 working days to complete. But it take two to tango, we need to work as a team to resolve the issue. Help us get the necessary information and Kumoten will try our very best to shorten the process.

(e) Communication with buyer. Kumoten does not liaise with end users. We need your help to liaise directly with your buyers because they know you.

(f) Delivery cost. Delivery cost for returning item shall be borne by Kumoten if you follow the procedure of using our digital consignment note. Kumoten shall also bear the cost of sending the item back to the buyer.

(g) Buyer from countries other than Malaysia. The verification process is similar to Malaysia-to-Malaysia returns. Kumoten will still bear the return cost if it meets the Product Return Policy requirements. The only difference is we will use other courier service company and the process will take up to 30 days depending on buyer location and stock availability (worst case scenario). In the case of refund, we shall refund in the same currency in which you paid Kumoten.

Refund or replacement will not be applicable for the following situations:
a) Original packaging missing
b) Any item that has been worn, or altered.
c) Used items (for cosmetic and other personal items such as under garments, adult toys)