DESCRIPTION
SHIPPING
RETURN POLICY
Estimated Delivery 7 to 9 Days

Tracking number available in 3 days time.
Remote Control Big LED Digital Wall Clock Stopwatch Thermometer Countdown Calendar
Main Features:
- Multi-use big LED wall clock / alarm / stopwatch / thermometer / countdown / calendar
- Remote control distance is about 10m
- LED brightness is adjustable, suitable for various environments
- Built-in a 3V CR2032 button battery to ensure punctual timing
- Remote control: 16 x 4.5 x 2.3cm ( L x W x H ), 42 keys, powered by 2 x AAA battery ( not included )
- The length of the USB cable is 140cm
Operating Instructions:
Display Help
- Connect the power source and it is in ON mode
- Time display: Hour and minute ( 12 / 24 hours system )
- Date display: Month and day
- Temperature: Deg.C / Deg.F, press the C / F button to switch the unite
- Recycling show: Press the DISP button 3 times at the same time, then the clock will display from date to temperature to time, and press the DISP button one time to stop recycling show mode
- Alarm rings: Ring for 1 minute from slow to fast, or you can press the AL ON / OFF button to stop
Time setting
- Press 0 12 / 24 button to change time display mode
- Press T SET button to enter time setting. Use UP, DOWN or 0 - 9 keys to set the number which is flashing and press the MODE key to move to the next position
- Press RET key to save and exist
Calendar setting
- Press C SET to enter calendar setting
- Use UP, DOWN or 1 - 9 keys to change the number which is flashing and press MODE key to move to the next position. Year, month and date are in turn.
- Note: You can only adjust the ten digit and single digit of the years and the default century is 21
Alarm setting
- Press AL SET to enter alarm setting. There are 16 groups of alarm ( AL 01 - AL 16 )
- Press UP, DOWN or 1 - 9 keys or A1 - A6 to choose the alarm group and then press MODE key to adjust the ring time
- Press RET key to save and exist
Countdown setting
- Maximum support 999 days countdown ( display d999 )
- Press the CD SET key 2 times to enter countdown setting
- Press MODE, UP, DOWN or 1 - 9 keys to set countdown numbers and press PAUSE to pause or continue ( If the countdown is paused, the second flashing light will keep on )
- The clock will ring beeps for 10 seconds when countdown time is over, if you press MUTE key, there will be no beeps and just 00 : 00 flashing on the clock
- Press RET key to exist countdown
- Note: Just 1 group countdown
Stopwatch setting
- Press ST key to enter stopwatch setting and PAUSE key to start or pause stopwatch
- The maximum timekeeping is 99 hours 59 minutes
- Press RET key to exist stopwatch
Note:
- Please make sure the controller over against the clock
- Neon maybe have a influence on controller, keep away from the neon
- Controller doesn't work when the clock is off
- It is not a rechargeable clock, only connect the power supply can it be normaly used
Type: Alarm Clock,Wall Clock
Style: Fashion,Modern
Time Display: Digital
Material: PVC
Features: Remote Control, Multifunctional
Shape: Novelty,Rectangular
Color: Black,White
Package weight: 0.907 kg
Product size (L x W x H): 42.50 x 15.50 x 1.80 cm / 16.73 x 6.1 x 0.71 inches
Package size (L x W x H): 50.00 x 18.00 x 4.00 cm / 19.69 x 7.09 x 1.57 inches
Package Contents: 1 x Multi-use Big LED Digital Wall Clock Stopwatch Thermometer Countdown Calendar, 1 x Power Adaptor, 1 x Remote Control, 1 x English User Manual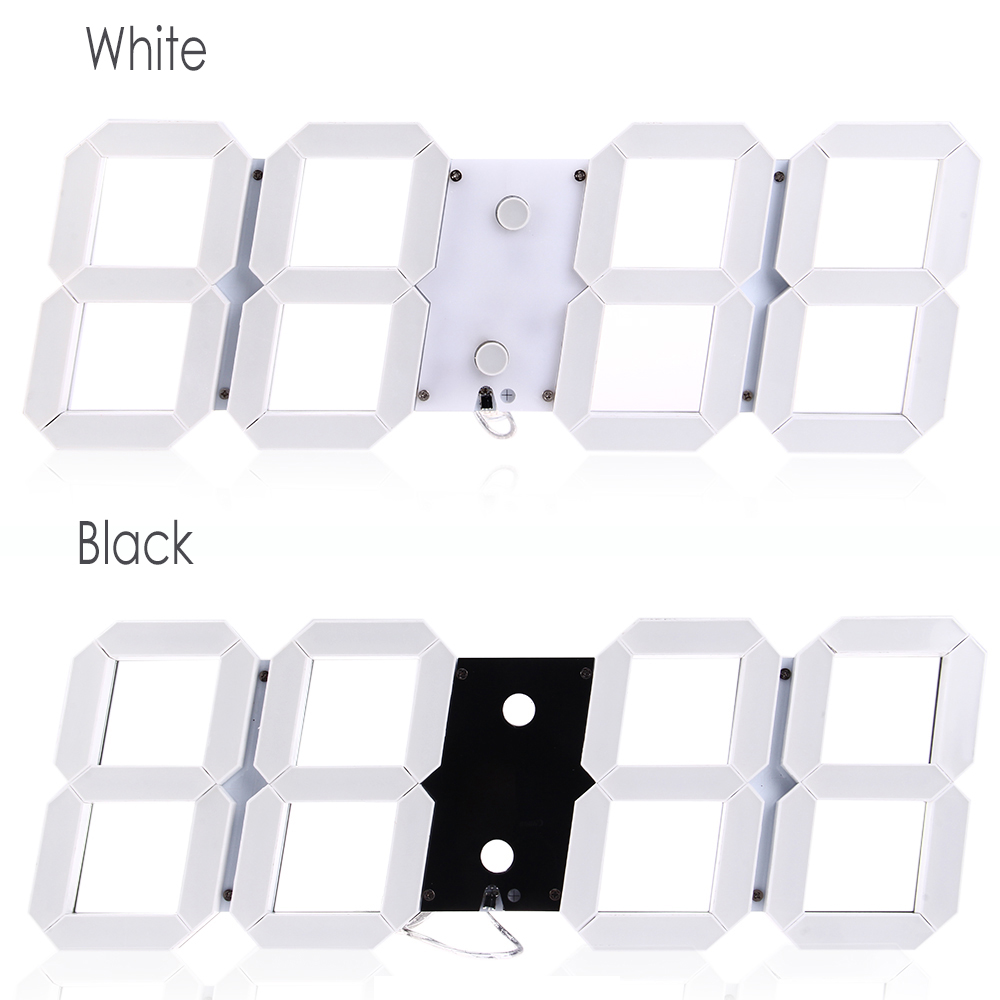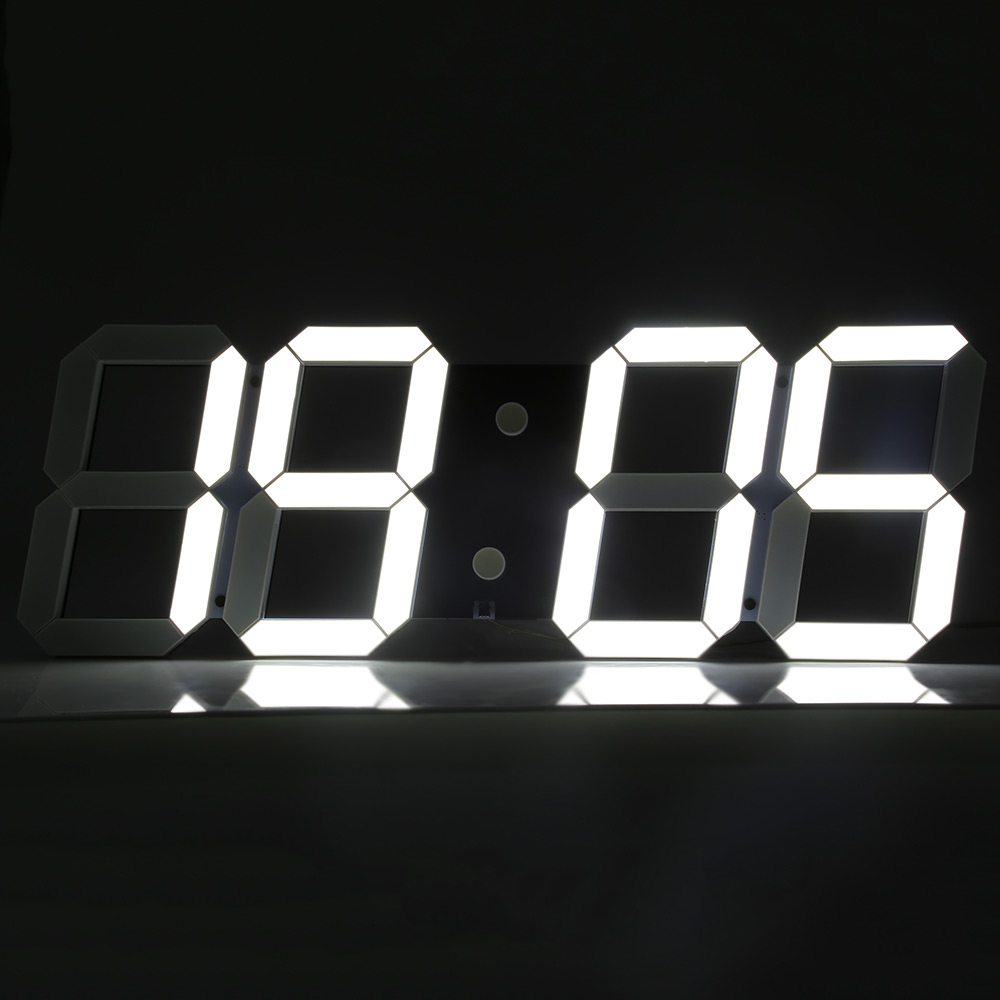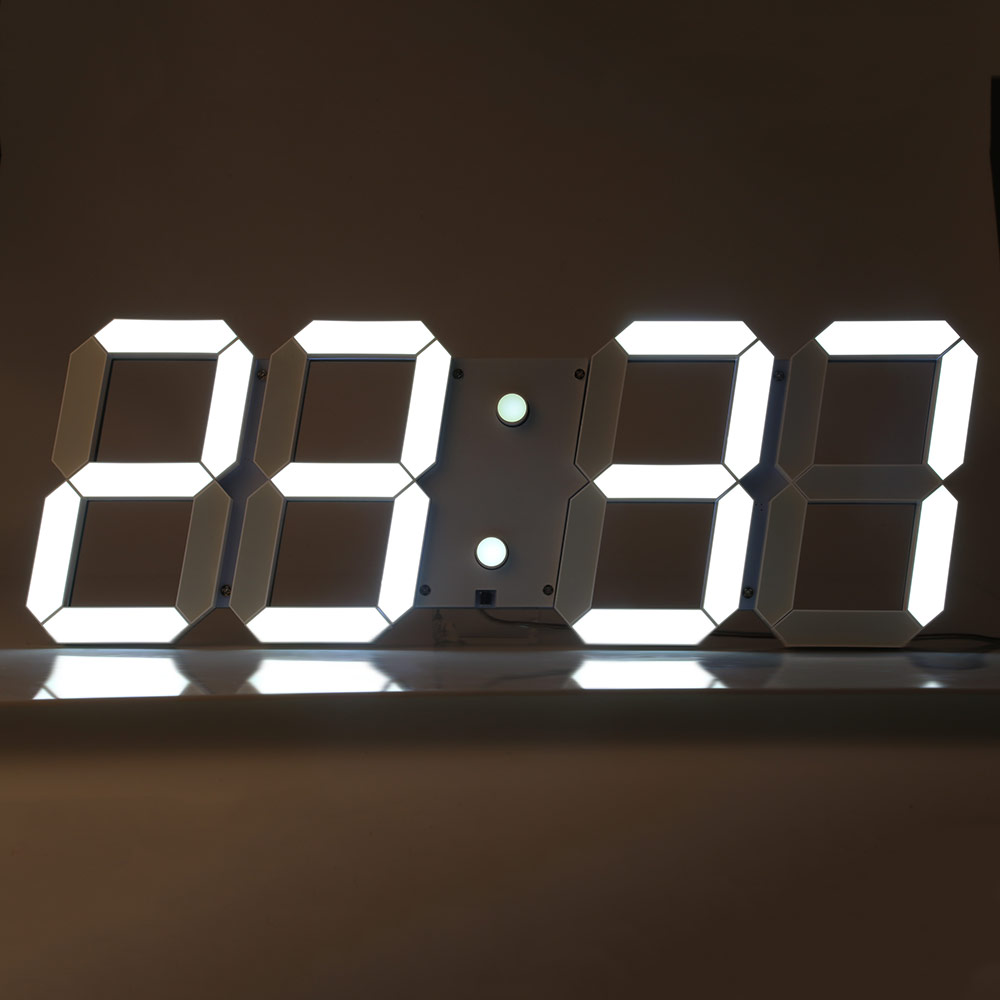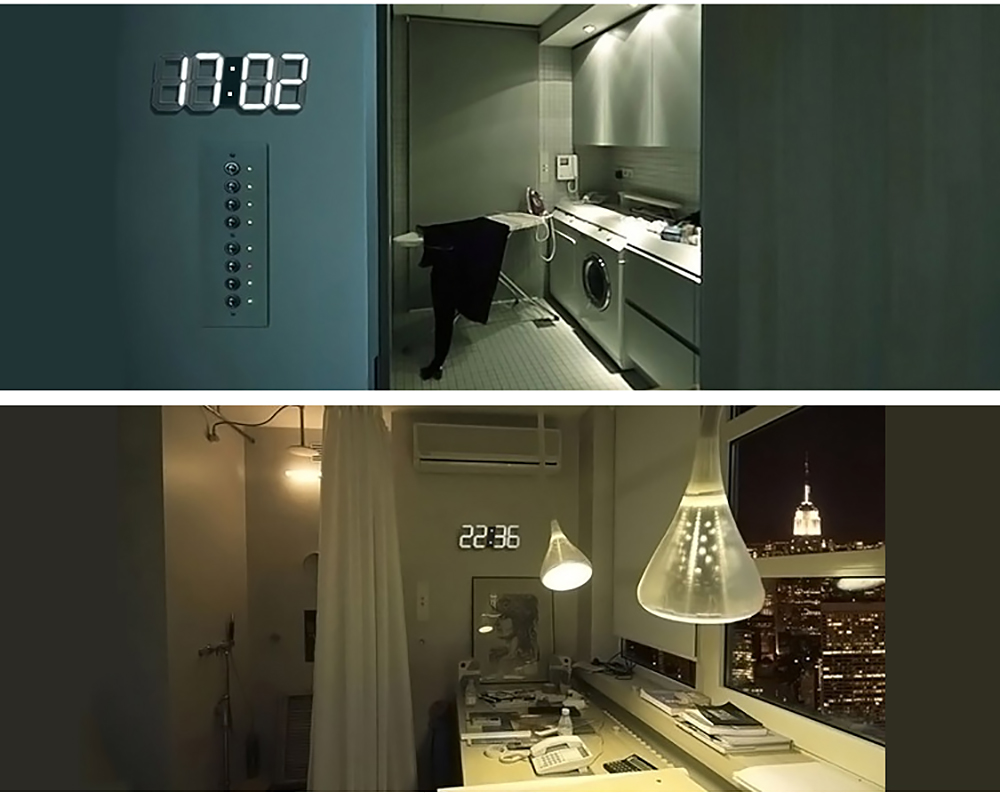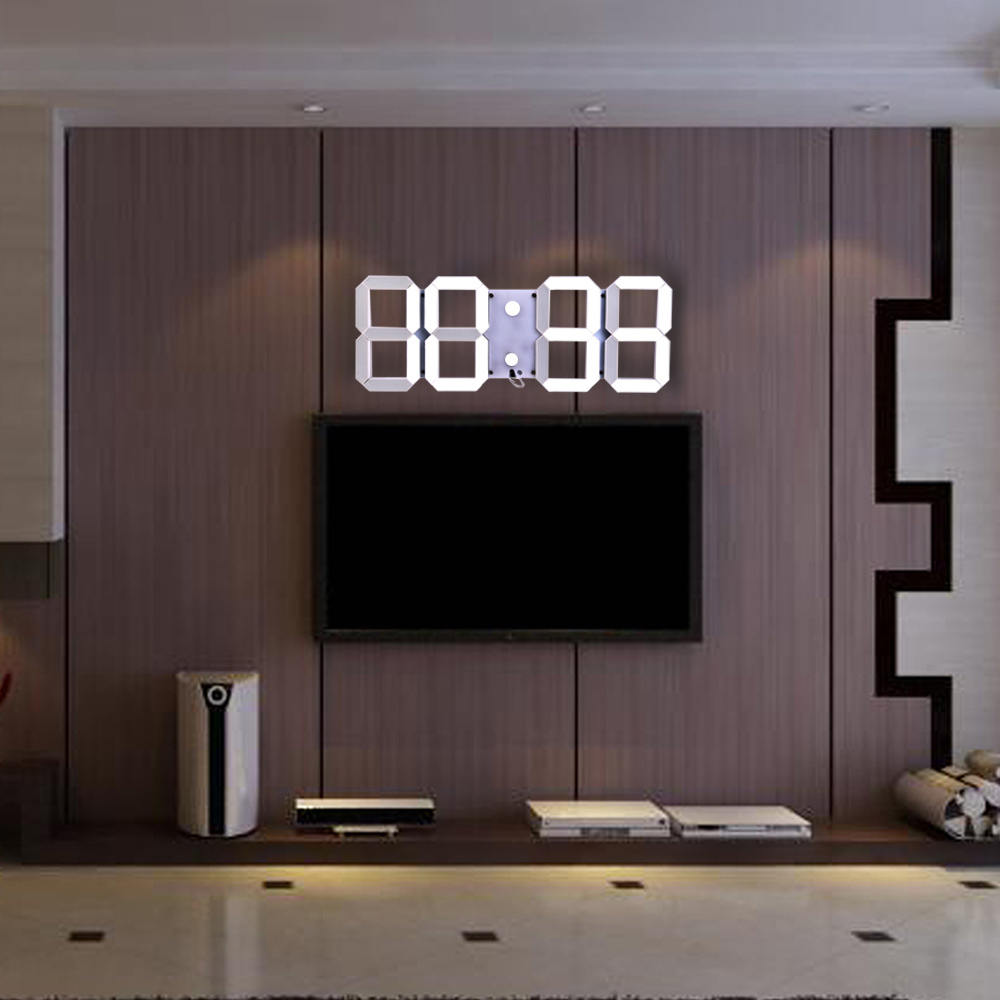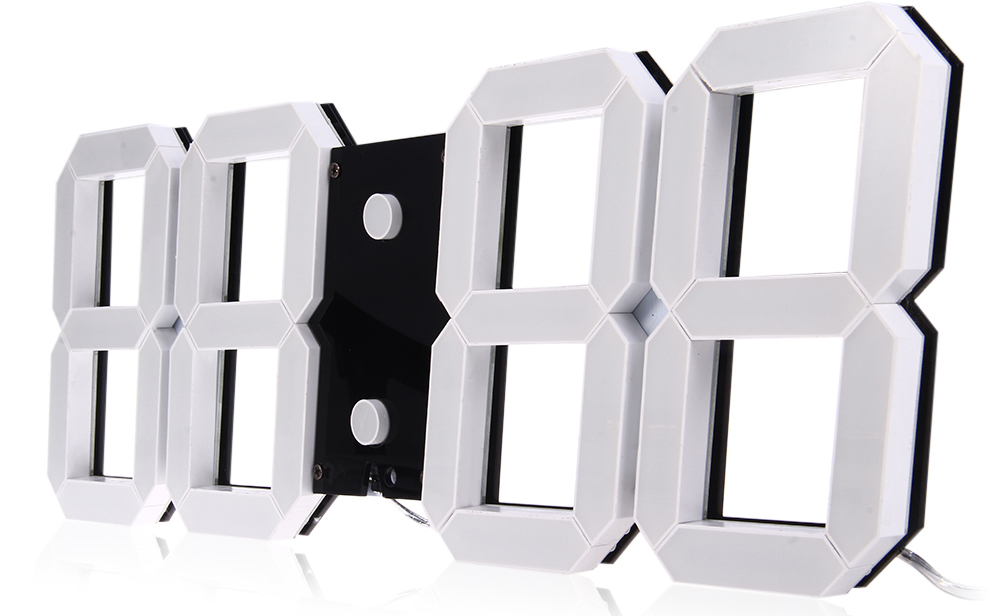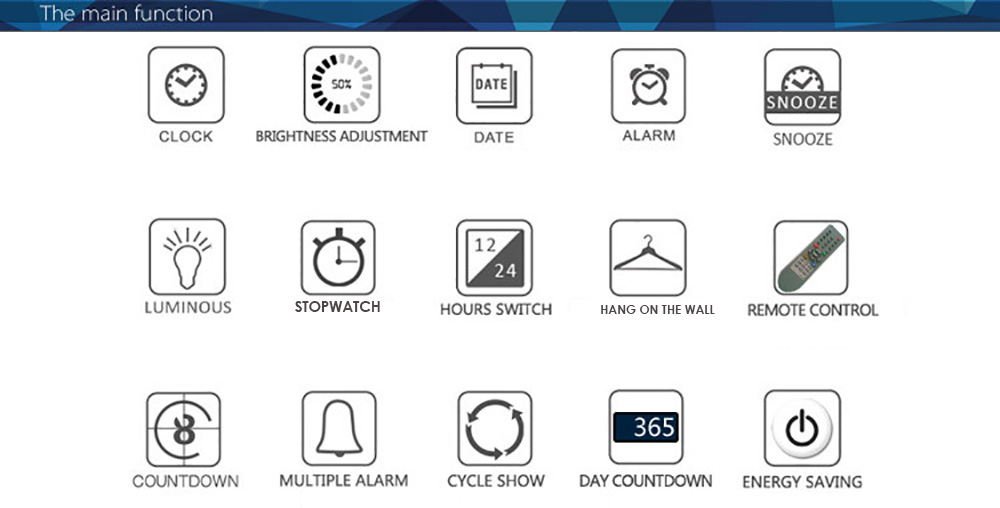 Product Return Policy
In what condition do we accept product exchange and/or refund?
Kumoten dropshippers are allowed to return products within 14 calendar days from shipment date under the following circumstances:
a.) Manufacturing defects.
b.) Kumoten delivered the wrong item.


Product return policy and procedures
(a) Stay Calm and Contact Us. In the event of customer complaint and request for return or refund, please stay calm and contact our Whatsapp Customer Service team at 019-3310990 or support@kumoten.com. Our support team available Mondays - Fridays, 9am - 6pm .

(b) What do we need to verify that the item is allowed for exchange or return? In most cases, we will need your help to get a few photo or video (handphone standard is sufficient, no need studio photography. ) of the item, show us where is the problem and we will get it processed. Off course, we will need to know the order ID too.

(b) (i) How to send the item back to us. Once our support team confirms the return, we shall send you a digital consignment note (Pos Laju). Retailers shall be required to inform the buyer to print the digital consignment note and paste it on the return parcel. We will arrange PosLaju to pick up the item from your buyer's address. If your buyer prefer us to pick up the return item from another address like their work place, please let us know too.

(ii) How to pack the return parcel. Please remind your buyer to ensure that the parcel has all the items including the packaging in it. Make sure the parcel is not see-through and well sealed. Paste the consignment note on the parcel.

(c) Exchange or Refund? We suggest you try to ask whether buyer accepts product exchange as first option. In any case, you and your buyer shall have the option to either get refund for the item's amount paid as stated in the sales order, or product replacement (same SKU). However, in the event where the particular item is out of stock, Kumoten shall refund the amount to you (dropshipper) and you liaise with the buyer.

(d) How long does it take? The product return or refund normally takes about 7-14 working days to complete. But it take two to tango, we need to work as a team to resolve the issue. Help us get the necessary information and Kumoten will try our very best to shorten the process.

(e) Communication with buyer. Kumoten does not liaise with end users. We need your help to liaise directly with your buyers because they know you.

(f) Delivery cost. Delivery cost for returning item shall be borne by Kumoten if you follow the procedure of using our digital consignment note. Kumoten shall also bear the cost of sending the item back to the buyer.

(g) Buyer from countries other than Malaysia. The verification process is similar to Malaysia-to-Malaysia returns. Kumoten will still bear the return cost if it meets the Product Return Policy requirements. The only difference is we will use other courier service company and the process will take up to 30 days depending on buyer location and stock availability (worst case scenario). In the case of refund, we shall refund in the same currency in which you paid Kumoten.

Refund or replacement will not be applicable for the following situations:
a) Original packaging missing
b) Any item that has been worn, or altered.
c) Used items (for cosmetic and other personal items such as under garments, adult toys)